Log stores - Classic A
At a glance
| | | | |
| --- | --- | --- | --- |
| Price | Width | Height | Depth |
| £305 | 155cm (61in) | 135cm (53in) | 55cm (22in) |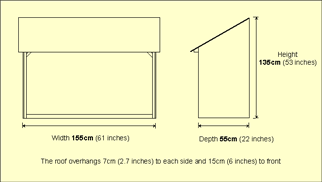 Price: Classic A one-bay log stores: £305.

The price includes delivery, covering the cost to most of mainland England and Wales.
There may be an additional cost for delivery to some parts of England and Wales and to the whole of Scotland, depending on Postcode.
We accept payment by credit card, debit card or bank transfer.
Please phone 01691 648016 or email for details. We can also quote for the cost of delivery to Northern Ireland or any of the islands, if required.
Availability: The Classic A log stores can be delivered within a few days of ordering. An order received by 6pm on a Monday can be delivered by Thursday or Friday that week or on a later date of your choice. The log store will arrive on a pallet weighing a total of 100kg. There is no need to move the heavy pallet as it can be unpacked where it has been unloaded and the individual panels taken to the place where the log store is to be assembled.

If you are in the Suffolk area, you can see a Classic A log store at Colne Stoves in Bury St Edmunds.
To order a Classic log store: Select the "Buy Now" button below and follow the instruction given or call us on 01691 648016.
The Classic A log store is a medium-sized log store supplied as a self-assembly kit, complete with fixings. The step-by-step pictorial instructions are sent by email with the delivery advice. It has been designed to stack two rows of 25cm (10 inch) logs, a length commonly available from log suppliers. The outside measurements of the store are shown in the diagram above. (Please click to enlarge.)
The log stores are made from trees that have grown, harvested and processed in our own forest in mid-Wales near Lake Vyrnwy. This woodland has been certified by Grown in Britain (GIB-F-WS-5068) as responsibly managed and our products carry the Grown in Britain label. The frame and panelling is built of 2.5cm (1") thick boards. The species is Douglas fir with a Norway Spruce roof.
We also make this pattern in alternative sizes as a made-to-measure Style A. See more details on the Style A page.
Assembly:
The log stores are straightforward to assemble. We will have test-assembled each one during manufacture and all holes are pre-drilled. All the fixings you require and a complimentary electric drill adapter for the special screws are included in the pack.
The storage volume is 0.66 cubic metres (35 cubic feet) which is equivalent to about 1 cubic metre of loosely stacks logs. Another way to look at it is that 0.66 cubic metres of carefully stacked logs is about the quantity of randomly stacked logs that will fit into a builder's dump bag.
Testimonials
Great service, excellent quality product, immediate availability - happy to recommend and will definitely use again. Frank, Dolgellau, Gwynedd
Many thanks for such fast delivery. The instructions were spot on and easy to follow and the finished log store looks brilliant. The grade of timber used looks like it really will last for years! Really pleased. Trevor, West Sussex
Truck arrived 4:30pm. Log store assembled and in position by 5:25pm. My wife and I are delighted with it. Peter, Buckingham.
I did quite a lot of research and your (log store) was the nicest one I could find. Peter, East Sussex.
A quick note to say (the) log store was a joy to assemble. Graham, Bedfordshire