Log store with front-to-back ridge – Style S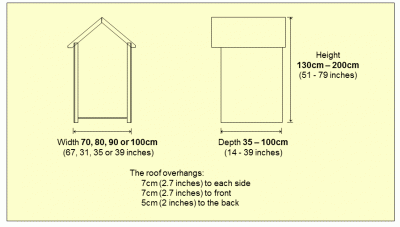 Log Store Details
The Style S Log store provides an option for those looking for a narrower log store.
We can now build much bigger log stores based on this design. We have recently shipped one that is 1.6m wide, 2m high and 1.9m deep that could hold over 4 cubic metres of logs.
The width can be from 70cm (27.5 inches) to 190cm (76 inches) wide. The roof pitch is usually 30 degrees but we can accommodate other angles if required.
The height of the store can range from 1.3m (51 inches) to 2m (79 inches) while the depth can be as shallow as 35cm (13.8 inches) or any depth up to 1m (39.4 inches).
The roof overhangs 7cm (2.75 inches) to the front and each side.
It also has a 5cm (2 inches) overhang to the rear to ensure efficient air circulation into the front of the store and out through the back. This is highly recommended for log storage.
These log stores are made-to-measure and priced individually for the size you require. All of the pictures shown on this page illustrate example we have built for customers. The dimensions and price shown under each picture are given only as a guide.
The prices range from £340 upwards and include delivery. These prices apply for delivery to much of the mainland UK. There may be an additional cost for delivery to some parts of England and Wales and to the whole of Scotland, depending on Postcode. Each unit is despatched as a self-assembly kit on a pallet complete with all fixings and illustrated instructions.
We accept payment by credit card, debit card or bank transfer.
We can deliver to anywhere in the British Isles. The cost of delivery will be included in any quotation you may request.
Availabilty: Lead time is normally between two and three weeks but we are currently receiving a high level of orders, so they are taking a little longer to manufacture and deliver.
To obtain a quotation: Select the QUOTE button below or alternatively call us on 01691 648016. Please see the diagram above for size options.
SPECIAL OFFER
We have an S1 in stock that, after it was built, would not fit the space the customer had allocated. It is new and has never left our workshop. The dimensions are 70cm wide, 200cm high, and 100cm deep. It has a storage capacity of 1 cubic metre. The price is £577 plus any delivery premium depending on postcode.
Specifying a Style S log store
We offer a made-to-measure manufacturing service, which enables you to have a log store of your chosen dimensions based upon our Style S. Each unit is despatched fully assembled, secured on a pallet.
If you provide us with the measurements of the log store you would like, we will design it and give you a price and provisional delivery date. We may wish to check the sizes with you to ensure that they are practical for manufacture and use.
The diagram above shows how the width, height and depth are measured and the range of sizes we can accommodate. (Click on the diagram to enlarge.)