LOG STORE WITH BACKWARD SLOPING ROOF – STYLE B: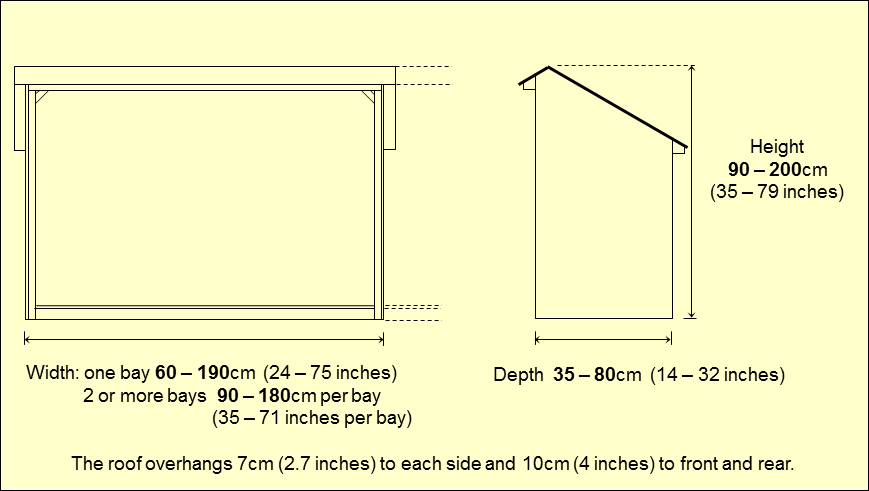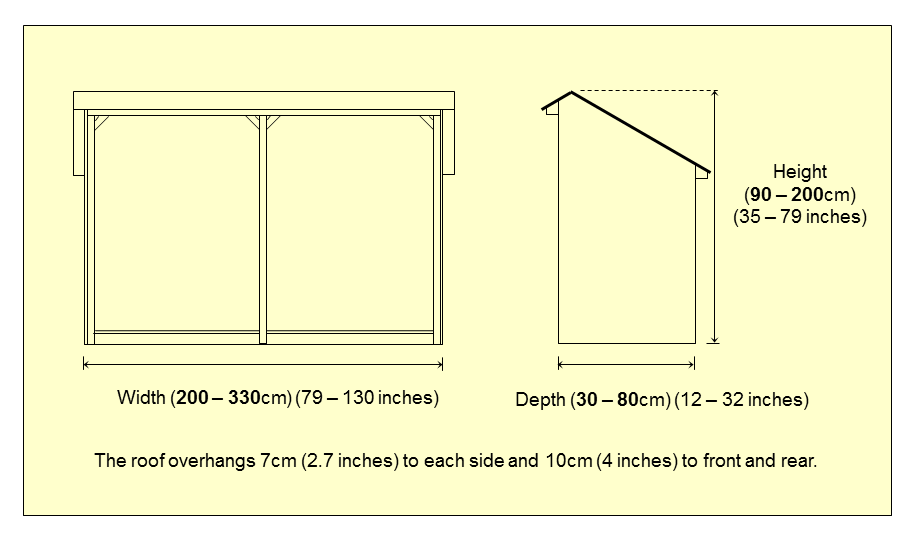 Details
Price: These log stores are made-to-measure and priced individually according to the size you require. All of the pictures shown on this page are examples of units we have made for customers. The dimensions and price shown under each picture are given only as a guide.
You can have just one bay, or more. Just tell us how many you need and we will design one specifically for you.
The prices start from £305 including delivery. These prices cover delivery to much of the mainland UK. There may be an additional cost for delivery to some parts of England and Wales and to the whole of Scotland, depending on Postcode. Each unit is despatched as a self-assembly kit on a pallet complete with all fixings and illustrated instructions.
We accept payment by credit card, debit card or by bank transfer.
Availability: Lead time is normally two to three weeks, depending on size and complexity but we are currently receiving a high level of orders, so they are taking a little longer to manufacture and deliver.
To obtain a quotation: Select the quote button or call us on 01691 648016. Please see the diagrams above for size options.
Style B log stores are particularly suited to sites with a restricted height where the Style A with a forward sloping roof would have an unrealistically low front opening height
A kindling shelf or doors can be fitted as an option.
This log store is suitable for locating in front of a hedge or a garden wall. However, as any rain will drip off the rear edge, it is unsuitable for positioning against a house or shed wall unless a wider gap or a suitable gutter is provided by yourselves.
The dimensions we can accommodate are:
Width:
ONE bay: 60-190cm
TWO or MORE bays: 90 – 180cm per bay
Height: 90-200cm
Depth: 35-80cm
If you can provide us with the measurements you would like, we will prepare a log store design and give you a price and provisional delivery date. (Click on diagram above to enlarge). Please specify whether you wish to include the optional kindling shelf.
Testimonials
I cannot believe how easy it was to put together - if only all self-assembly was that easy. It is exactly what we needed. 
Andrew, Surrey.