LOG STORE WITH FORWARD SLOPING ROOF – STYLE A: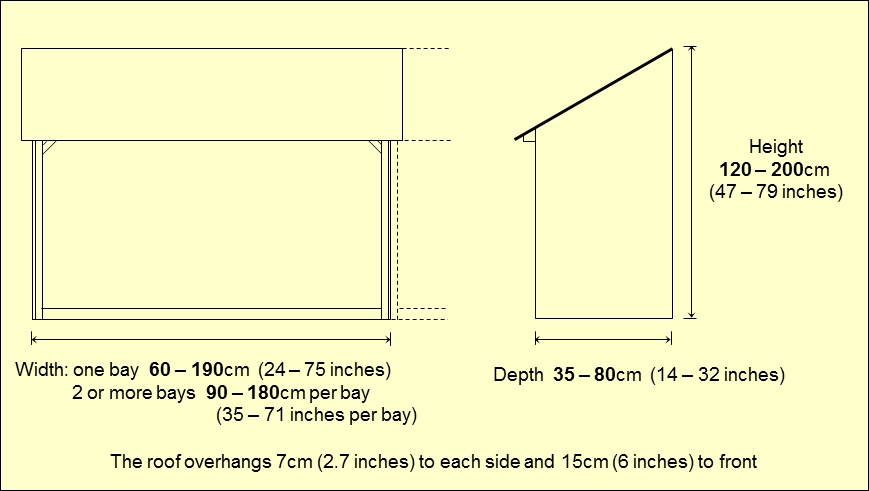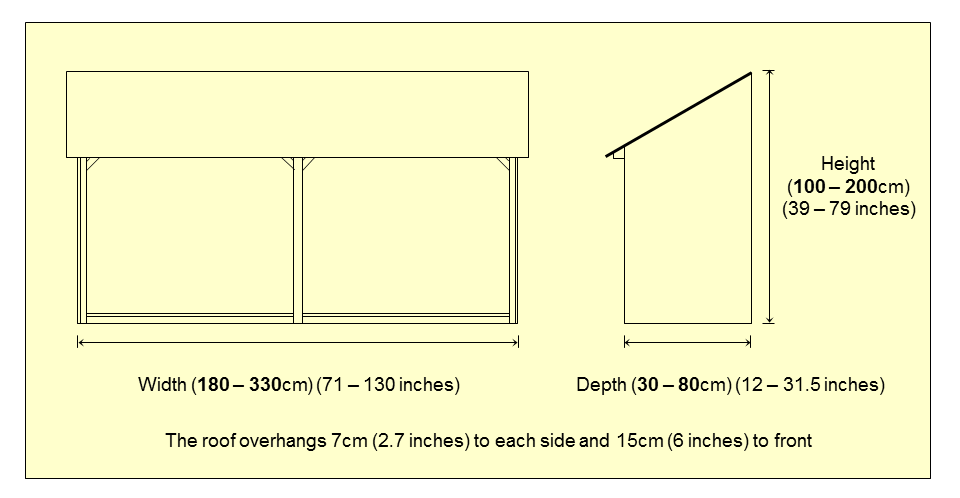 Price: Style A log stores are made-to-measure and priced individually based on the size required. All the pictures on this page are examples of units we have made for customers. The dimensions and price shown under each picture above are given only as a guide.
The log store can be built with just one bay or with two or more, however many you need. We have built units with up to four bays but, theoretically, there is no limit.
Prices, depending on size, range from £290 upwards and include delivery to much of mainland UK. There may be an additional cost for delivery to some parts of England and Wales and to the whole of Scotland, depending on Postcode. This will be included is any quotation you request. Each unit is despatched as a self-assembly kit on a pallet complete with all fixings and illustrated instructions.
We accept payment by credit card, debit card or bank transfer.
Availability:The order lead time is normally two to three weeks, depending on size and complexity. Currently.  our leads times are a bit longer than normal as demand is very high.
To get a quotation: Select the quote button above or call us on 01691 648016. Please see the diagrams above for size options. 
Specifying a Style A log store
The Log Store dimensions required for us to prepare a quotation are the width across the front at ground level, the overall height, the depth from front to back at ground level and the number of bays. Please let us know if you require a kindling shelf?
The dimensions we can accommodate for a Style A are:
 Width:
ONE bay: 60 – 190cm
TWO or MORE bays: 90 – 180cm per bay
 Height:  120 – 200cm
 Depth – 35 – 80cm
NOTE: the roof normally overhangs 7cm (2.7 inches) to each side and 15cm (6 inches) to the front. Please allow for this when taking your measurements. The side overhang can be adjusted if space is limited.
We suggest that you keep a 5cm (2 inch) gap at the back to allow for through ventilation.
If you can provide us with the measurements you require, we will prepare a log store design and give you a price and provisional delivery date. If the dimensions are unusual, we may contact you to discuss them and ensure that the resulting unit is practical for you to use.
A kindling shelf can be included as an option where there is sufficient available height.
Testimonials
Just to let you know the log store arrived safely with us on Friday - put it up yesterday and it fits perfectly (to the cm!) Was very easy to put up, took less than an hour. Jasmine, London
I am delighted to tell you that our wood store is now installed. It is well made and will obviously serve us well. We are delighted with the appearance. David, Herefordshire
Thank you for meeting the agreed despatch date, keeping me informed (of progress) by both email and telephone and providing the best instructions that I have ever seen. Alan, Wiltshire
I'm absolutely delighted. I must also say how impressed I have been with your patience, advice and the service that you have given throughout. Martin, Kent
Thanks, absolutely delighted with my log store....very clear instructions and straightforward to assemble ... and looks great. Steve, Surrey